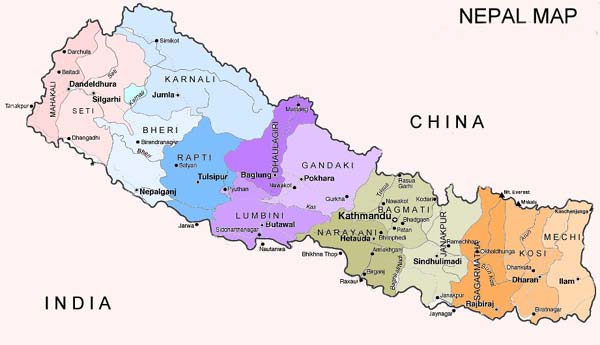 Nepal is known as a country of Mount Everest. Out of 10 highest peaks of the world, 8 lie in Nepal only. And this country is the Home Land of world famous warrior "The Gurkhas".
Nepal Started furnishing work force to overseas countries from early 18th century with Gorkha Regiment for East India Company. British Govt. was impressed by bravery and honesty of Gurkhas and therefore, formed a separate Gorkha Regiment in 1815. The Gorkha fought for Britain in I II World war in heroic way. Since then overseas employment has been a great fascination for Nepalese Youth.
In 1985 the Government of Nepal made the Foreign Employment Act & enforced it to regulate the procedures. It Opened the for the Nepalese National going for overseas job to various Gulf Countries, Hong Kong, South Korea, Singapore, Malaysia, Israel, U.S.A & other European Countries through proper way. During last 20 years, more than one million workers have been drained to various countries for overseas jobs & earned a great fame.
Area

1,47,181 Sq Kms.

Capital

Kathmandu

Location

Between Chaina & India

Latitude

80°12´ and 30° North

Longitude

80°4' and 88°12' East
Geographical Condition
Plain Terai Mountain & Himalayan
Ethnic Group Composition
Dravidian, Aryan, Mongolian & Muslim

Political System

Multiple Democracy with Constitual Monarchy

Population

25,000 Thousand (Approx)

Standard Time

+5.45 with GMT

Office hour

10 Am to 5PM

Seasons

Winter ( December-Feb) 1° to 18°C
Summer ( March-May) 18° to 32°
Monsoon (June -August)
Autumn (Sept-Nov) 10° to 18°
Climate
Combination of Cool & Sub-tropical

Visa

Availiable at Royal Nepal Embassy and Consulates abroad or on arrival at Tribhuvan International airport in Nepal

Visa fee

US $30 for single entry valid for 60 days
US $80 for multiple entry.
Official Language
Nepali, English is widely spoken & understood. Around 40 languages are practiced among' different races
Main Source of Income
Tourism, Export of Handicrafts, Garments, Hand Knitted Carpets, Food-grains & Foreign Employment